Good News! You will be able to delete your sent message on WhatsApp whenever you want, there will be no punctuality
WhatsApp keeps on bringing great features to keep its users engaged and at the same time keeps trying to upgrade old features as well. In this episode, WhatsApp is now updating its four-year-old 'Delete for Everyone' feature. Let us tell you that by using the Delete for Everyone feature till now, you can delete the message for everyone for 68 minutes. Now WhatsApp is ending this time limit i.e. you can delete your sent message whenever you want.
In a screenshot shared by WABetaInfo, a platform that informs about the features related to the update of WhatsApp, the feature is visible on the Android interface, along with a dialog box that will ask users to choose whether they want to send messages. You want to delete it just for yourself or for everyone in the chat. The message shown in the screenshot is three months old and the chat behind it shows the date of August 23, which is much higher than the current deadline for the 'delete for everyone' feature by WhatsApp.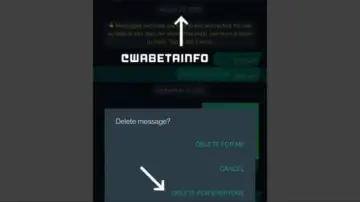 You can delete messages on WhatsApp in such a short time
Currently, WhatsApp users get 4096 seconds (or 68 minutes and 16 seconds) to delete a message. This timer was increased after the release of the feature in 2017, which had the ability to delete a message within 8 minutes of being sent. However, leaks suggest that the timer may be completely removed in a future update.
Telegram and Instagram already provide this facility
If WhatsApp lifts the deadline for the 'Delete for Everyone' feature, it will not be the first company to do so. Both Telegram and Instagram allow users to delete old messages from the app without any time limit.